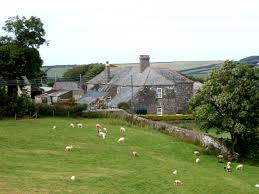 The Farm and the Valais Blacknose
Halsbury Barton has been in the Slee family for over 100 years and through four generations. The farm is set in over 350 acres of rolling North Devon Countryside. Chris's grandad bred and showed native Ruby Red Devon Cattle and was a very well known and respected breeder. Chris must have caught the showing bug from him and is now a very successful breeder of Jacob sheep himself, alongside his sister. The Halsbury Jacob flock is well know around the South of England and has won numerous individual and flock awards. As well as the Jacobs there are over 400 commercial sheep, 30 cattle and the farm also produces for the arable market. All very traditional so far… And then in 2016 much to his dad's surprise Chris and Tom spent a small fortune on some Valais Blacknose embryos from Scotland. And so it began…
Since then they have bred a number of prize winning Valais, traveled around the country and to Switzerland, met some interesting people, become Vice Chairman and Treasurer of the Valais Blacknose Society and sold some sheep for the price of a small car. Its been a fun journey!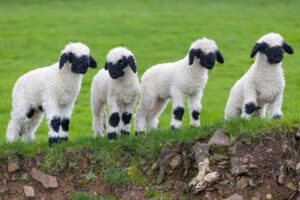 The Story
Chris and Tom met when Tom left his job working as an Economist in London to try something different and work for a season in a horse racing yard. Yes quite different! Chris was farming on the family farm and after a bit of discussion and having seen the Valais Blacknose sheep at the previous years Devon County Show they decided to start the Valais project together. Having researched the market they wanted to start with the best quality and found some breeders in Scotland who were having a lot of success. They took the punt and bought 12 pedigree Valais embryos with the aim of breeding the best quality Valais they could. They now continue to produce their own embryos from their best ewes but also breed from their own ewes naturally. Through the years the aim has remained the same – to breed the best quality they can and show the offspring at agricultural shows.
Meet us
Chris Slee
Chris was born and grew up at Halsbury Barton, the family farm. He has helped out on the Farm all his life and after leaving Harper Adams Agricultural College went back to the Farm to work full time with his dad. He has shown Devon Cattle and Jacob Sheep for over 10 years. He, along with his sister has won many awards for his Jacob sheep in the South of England and is now beginning to win a few with the Valais. He has been Chairman of his local Young Farmers, Committee Member of the Jacob Sheep Society and is now Vice Chairman of the Valais Blacknose Sheep Society.  He is an approved County Level Jacob Sheep and Valais Blacknose Sheep Judge. In March 2022, Chris attended Widdermarkt in Switzerland to undertake a Grading course run by the Swiss Experts. He is now able to grade Valais Blacknose according to the Swiss standards and certified by the Oberwalliser Schwarznasen (Swiss Valais Blacknose Society).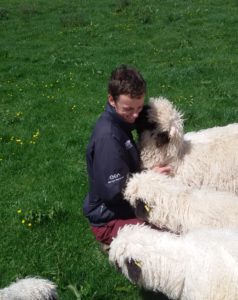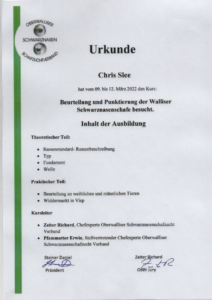 Tom Hooper
Tom grew up in Somerset before moving to Nottingham to study Economics at University. After University he qualified as an Accountant at KPMG in London and then worked as an Economist for the same firm. He left London to try something different in 2015 and went to work as an Assistant Trainer at a horse racing yard in North Devon. After meeting Chris he spends part of his time helping on the farm, another part still working with horses and another part working as a consultant for a firm in London. He has also ridden in a few point to points with limited success!